Did you know your pool safety fence does not have to make a big awkward circle around your rectangular pool? Pool Guard of Dallas/Fort Worth has the ability to customize sections of your pool fence to follow the contour of your pool and/or pool deck. If you are a straight line type of person, fear not, most likely we can find a solution more ascetically pleasing to your eyes AND keep your precious babies and pets away from your backyard swimming pool.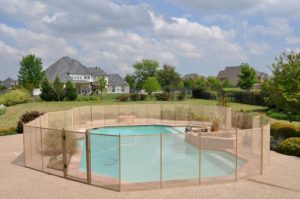 How do we do that you ask? We do it with planning and patience! We can trim down any of our 15 foot long standard sections to turn at 90 degree angles, go up and down steps, over retaining walls and/or in between columns along your patio. We can custom create fences to stop and start at specific points around your pool. Of course, there is a cost involved with customizing, as it is more labor intensive than a standard installation and utilizes more poles, latches and material – BUT in 99% of the cases it can be done.
If you are thinking about securing your swimming pool with a removable pool fence but are scared it isn't going to look good in your backyard, look at our Gallery of pool fence pictures and then give us a call. We are happy to spend some time with you at your home within the North Texas Metroplex and come up with a creative solution that works for your family.
Don't forget, at the end of the day, these mesh pool safety gates are fully removable, so if you are having a party and the littles are at the Grandparents for the weekend – you can live on the edge and take your pool fence down for the night What are you waiting for?? Keep the kiddos safe from the water in an aesthetically pleasing way and give us a call for a Free Pool Safety Fence Estimate today!!