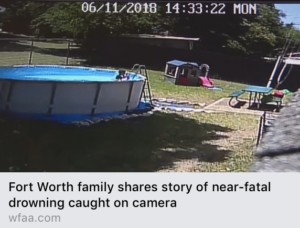 The dangers of drowning in a back yard swimming pool are all too real and it can happen in a flash.  Watching the news story on WFAA tonight, here: https://www.wfaa.com/article/news/fort-worth-family-shares-story-of-near-fatal-drowning-caught-on-camera/287-564572796 reminds us how perilous life can be and how it can change in an instant.  It breaks our heart and we tear up every time we hear one of these stories.  Fortunately, this little boy was lucky – his 2 year old cousin went to get his mommy – and he has made a full recovery with no lasting damage.  Hallelujah! We wish every drowning case had the same outcome.
Summer is a time for fun and for playing in the pool, but only with an adult and only with permission.  As parents, we always do our best to keep our children safe, while at the same time giving them a little latitude to explore the world, fall down and make mistakes.  This is how we learn – all of us, children and adults.   It is hard and as parents we need to understand making a mistake does not make us negligent, it is simply an accident, but an accident with lasting impact.
We work with the Texas Drowning Prevention Alliance and one of the things we reiterate to our customers is layers of protection.  Layers are so important because we are all imperfect and we all make mistakes.  Layers help protect us and the precious little ones for whom we care. Not a single one of us is immune to an accidental drowning.
So, how do you layer for pool safety?  There are a few easy things families can do to help protect themselves.
1) Enroll your child in swimming lessons
2)Teach, re-teach and teach again the rules of the pool – never ever go by the pool or touch the water without permission and without a grown up with you.
3) Assign an adult water watcher when swimming.  Their sole job is to scan the water and make sure nobody is in trouble.  Take turns so nobody misses out on social conversation.
4) Remove the ladder from the above ground pool, make sure the fence around the pool is closed and latched properly, and/or replace your pool safety net and be certain it is tightened correctly.
5) When you exit the pool area, secure your house doors with a high safety latch.  Be sure to select one which is easy to release in the event of a fire inside the home.
6) If you have a security alarm, turn on the door chime so you are alerted if a door is opened.  Please visit http://www.txdpa.com for more pool safety tips.
It is important to note that no single layer of protection is 100% effective.  The hope is by building in multiple layers we can, together greatly reduce the risk of accidental drowning.  At Pool Guard of Dallas/Fort Worth, we will continue to work to ensure we do our part to help you protect your precious babies in and around the pool.
Our thoughts and prayers are with this sweet Fort Worth family and all of the others who have been impacted by a drowning.